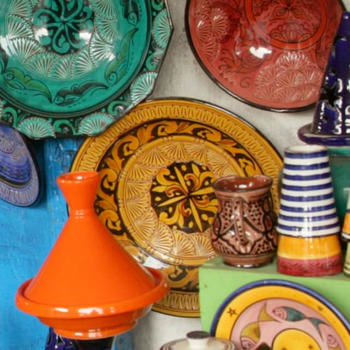 Wandering up and down the streets and in and out of the various souks is a great way to spend some time in Essaouira. Just be aware that if you accept the offer of tea you will almost certainly be expected to make a purchase! Here are just a few of our recommendations taken from our guest information (which includes full directions).
Paintings: La Petite Galeríe
The "stick" paintings hanging by the library nook in the Grand Salon are by Drissi Slimane, who sells his work here. Almost all the friends we have taken here have ended up buying something! Although the prices are more or less fixed, say that you are staying at Dar Leila – you might get a bit off!
Jewellery: Tazra
Omar Samat has the best selection of genuine antique jewellery in town and some new pieces he makes himself. His prices are very reasonable and fixed. He is also our house guardian's brother and speaks good English.
Bags: Poupa Litza
For very cool handbags head straight for Poupa Litza. Made locally and exported to boutiques across Paris their fixed prices are not cheap but they are still half the cost you would pay in Europe. We would say worth it for a browse but most ladies may find it hard to leave without making a purchase!
Soaps: L'Art du Bain
The small soaps we use at Dar Leila come from L'Art du Bain. If you have any allergies you may find it hard to spend time in this shop so strong is the scent from the piles of soaps! The Essaouira outpost of a trendy Marrakech soap shop their products are very good quality and reasonably priced. They will make a string of 5 small soaps, ideal for a gift, for 30DHS / €3.