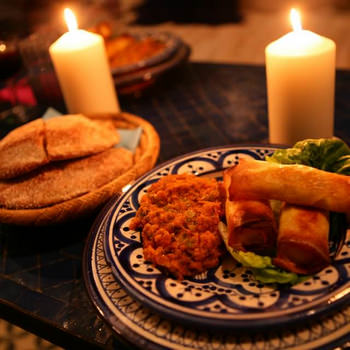 Dar Leila is situated in a no through street in the heart of the medina, minutes from all of the best restaurants in Essaouira.
These are our current favourites in three different price categories.
€ - up to 150DHS / €15
La Decouverte:
A tiny, simple restaurant run by a French couple, La Decouverte has a short menu - three starters, five main courses and two or three puddings - which changes most days according to what is freshest in the markets. Their cooking is fantastic – a pastilla here is light and crispy unlike so many of the bricks served in traditional Moroccan establishments - and the prices ridiculously good value. Open from early until the last customers leave! If you want to drink alcohol you have to sit inside.
€€ up to 300DHS / €30
Elizir:
Latif owned a restaurant in Italy for nine years before returning home to Essaouira. His stated aim at Elizir is to offer something a bit different to the traditional tagines. And boy does he succeed. The décor is bang up to the moment, contemporary Moroccan with an enviable range of fifties and sixties design classics that will have aficionados salivating before they even see the menu. The food lives up to the décor – made from organic ingredients it fuses French, Moroccan and Italian flavours. Light and airy rooms plus a large, bright terrace – you'll need your shades up here during the day. Open throughout the afternoon. Licensed. Some vegetarian dishes.
€€€ over 300DHS / €30
Le Cinq:
Trendy European style lounge-bistro underneath the cool Madada Mogador hotel. Can be noisy and hot when busy so if you're looking for a quiet meal perhaps not the place to go. It's got a great vibe though and a good French leaning menu. Open for dinner only (there's no outside space) and from 12:00 on weekends. CLOSED on Tuesdays. Vegetarian options.
Pricing is an approximate cost for a meal for 2 without drinks.