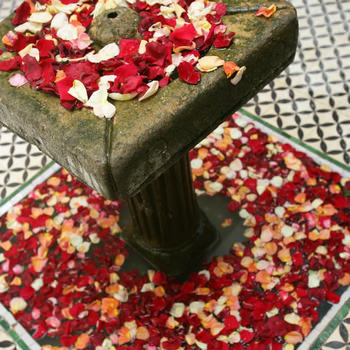 You are in the home of the Hammam (Steam Room) and there are plenty of options to chose from. Our favourites are:
Lalla Mira - one of the best as a non-local. Part of a European run Bio hotel and restaurant, the rates are excellent. You can have the full works of a Gommage (black soap wash), Hammam, Enveloppement(exfoliating scrub) and massage for only 180DHS / €18. The only catch is that it is just for ladies. Hours are 08:30 – 22:00 and it is best to make a reservation 24 hours in advance. We would recommend (from experience) that ladies should wear a pair of bikini bottoms for the treatment.
For gentlemen there is Hammam Mounia, between 18:30 and 22:30. Their "Classic Hammam" (similar to that listed above) is 160DHS / €16, though we would recommend paying the extra 25DHS / €2.50 for a massage with Argan oil. Again book in advance and wear swimming trunks. They will also do ladies up to 18:30.
If you want a more "spa-like" experience there are plenty of other options to chose from - all of which are detailed in our information pack.
For beauty treatments Hachouma from Salon El Farissi offers a wide range including manicures, pedicures, waxing, henna tattooing and hair styling. After 15:00 on weekdays and at ay time on weekends she will bring the pampering to you (for no extra cost) or you can visit her salon. We'd recommend the terrace at Dar Leila as an ideal location! She does a fantastic manicure but the range and quality of varnishes is limited so we would suggest supplying your own.