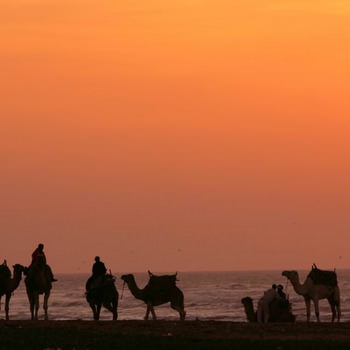 Kite Surfing, Wind Surfing, Surfing:
Club Mistral at Ocean Vagabond's beach base has everything you will need, from equipment hire to lessons to recommendations on where the best surf is found. Sebastien and his team, Mounir & Rachid, are very friendly and open for business 7 days a week.
Quad Bike / Buggy Excursions:
This is a great way to spend an afternoon. For 550DHS / €55 per person Philippe, who owns Cap Quad, will pick you up from by Bab Sbaa gate, drive you out to their base 10 minutes away in Diabat (the village made famous by Jimi Hendrix) and take you out for 2½ - 3 hours on quad bikes. You head down the dunes to Sidi, led by an experienced guide, slowly at first until you get the hang of it. The return journey is a full on blast back down the beach. Well worth the money if you like this sort of fun.
If you are nervous about riding a quad a more sedate (though still very fun) option is a Buggy Excursion. Trip Buggy (part of Essaouira Quad) have 2 seater buggys with a steering wheel (as opposed to handlebars). A 3 hour trip is 550DHS / €55 for the driver and an extra 250DHS / €25 if you take a passenger.
Horse - or Camel - Riding:
You'll encounter touts on the beach offering horse or camel trips - don't worry if you're not keen - they do listen to a polite no. If you do want a short trip the animals all look well cared for - just agree a price before you set off.
For a more organised excursion Equidia offer a variety of different length trips from 2 hours to 2 days!